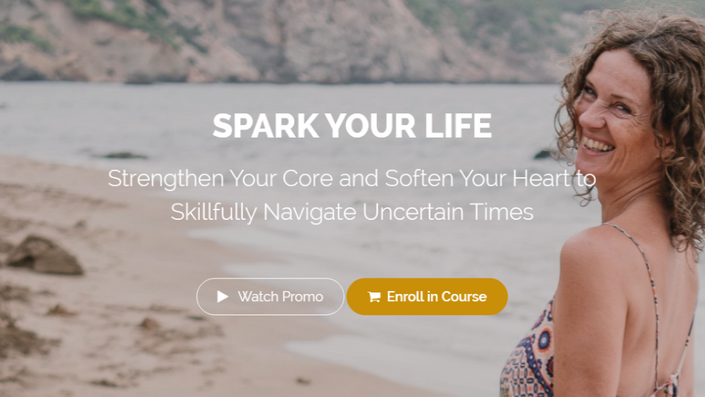 SPARK YOUR LIFE 2022
Strengthen Your Core and Soften Your Heart to Skillfully Navigate Uncertain Times
Enroll in Course

Does this sound like you?
✦ You know a regular yoga routine would make you feel more vibrant but you don't know where to start and how to bring it into your busy life.
✦ You grind your teeth at night and lay awake worrying about work but don't know how to leave that boring job and start doing what you love for a living.

✦ You feel like it's been months since you last felt really light and full of joy, and the connection to your own body got somehow lost.

✦ You are always the one making the compromises in your relationships and feel dissatisfied and stuck but unsure how to make a change.

✦ Your tendency to focus on your own shortcomings makes you unhappy but you don't know how to access self-acceptance on a regular basis.
If you answered YES to any of these questions, you will LOVE this program.
Imagine how it would feel to...

Overcome fear and step into courage—no matter your external circumstances. Follow your intuition with confidence, ease and grace.
Be connected and strong in your body. Accept yourself fully and share your authentic self in deeply intimate relationships.
Create joy and meaning around the work that you do in the world.
Introducing the SPARK YOUR LIFE home retreat and mentorship program where you will gain tools, courage and clarity to live your life with more JOY and EASE.
✦ January 24 to March 1, 2022 ✦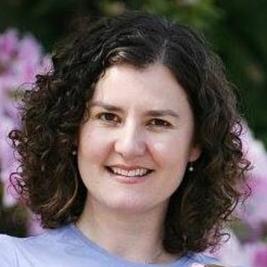 "Dagmar's SPARK YOUR LIFE course is a wonderful experience. The course is set up to create a gradual change and positive shift in your life, with thought-provoking lesson prompts, mindful yoga practices and meditations to complement each week. Dagmar provides a calm and trusting environment from which participants can share their thoughts, stories and gain insights into how we can all find the strength within us to create change. Her positive attitude along with her deep sense of caring and authenticity made the experience of this course even more deeply felt."
—Erika, USA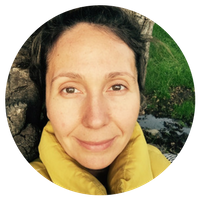 "This course is more than beautiful yoga classes. It builds a wonderful community of support with people around the world, guided by Dagmar, and it cultivates friendships and honesty. The yoga videos are breathtaking, and it never gets old to do them over and over again. This was a wonderful investment for myself, and I would do the class again without hesitation. It is well structured, and Dagmar is accessible throughout the course, listening and offering her wisdom at every step of the way. I still use the videos after a year and love them."
—Ozlem, USA
Create the life of your dreams
SPARK YOUR LIFE is a 5-week online retreat, designed to help you find the trust and courage to skillfully navigate these uncertain times and follow your heart.
What makes SPARK YOUR LIFE different from other self-development courses?
Intuition and body-based practices form the foundation of SPARK YOUR LIFE and are sadly missing from other self-development courses.
When you sign up for SPARK YOUR LIFE, you will learn to integrate yoga into your daily life so that you feel home again in your own body.
You'll be confident again to follow your intuition and create a life on your own terms, with courage and clarity.
I will personally teach you proven techniques to fully know and trust your intuition.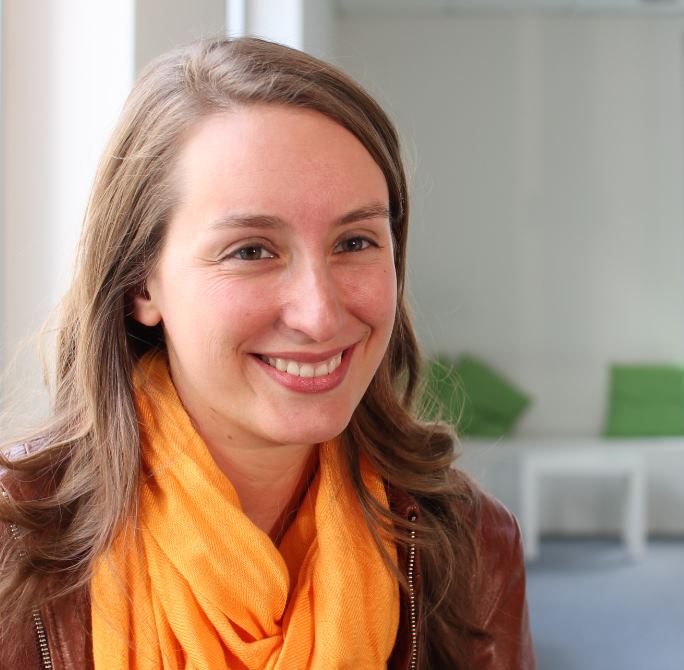 "I absolutely loved this program! It was super intense in an amazing way. I changed so many habits—I consider the course life-changing! I loved the variety of inputs, the yoga videos in the most awesome landscapes, and the live talks, the self-care tips and the personal exchange with like-minded yogis from all over the world. I especially loved having a little bit of Dagmar in my living room every day! Thank you so much from the bottom of my heart!"
—Britta, Germany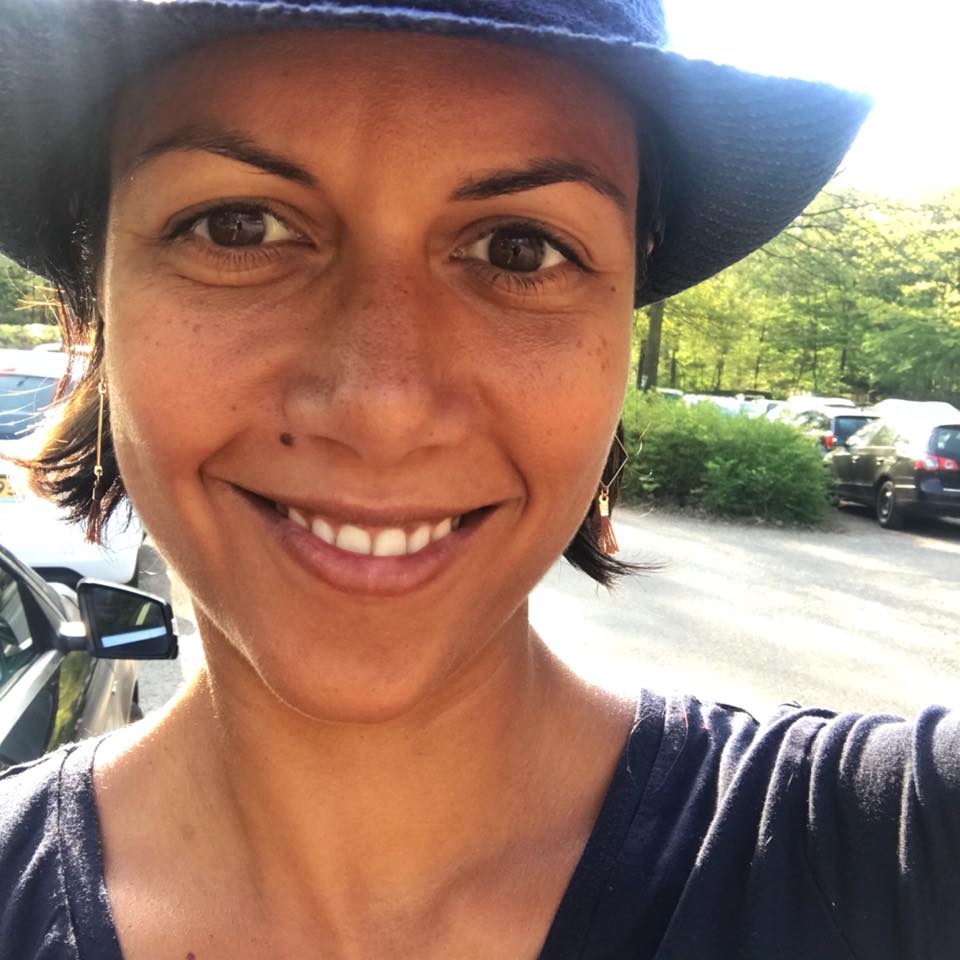 "The best thing the course did for me was teach me how to communicate my needs better. In the two months since the course, I've had some really good, deep conversations with my partner and we've found healthier ways to communicate with each other. I also eat healthier and make time for my personal practice more often. I've managed to set a clear goal for work and am starting to speak my truth more often. I do the videos and meditations regularly and continue with the weekly cycles proposed in the course. It's like having Dagmar and my fellow yogis from the program with me somehow. I felt so supported during the course and continue to afterward."
—Sivani, Germany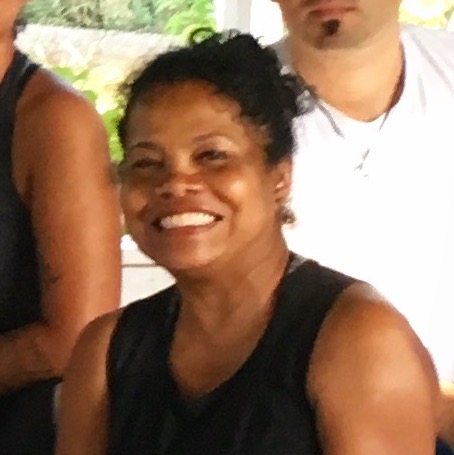 "I just loved the online course. It not only helped me stick to a daily meditation practice but also inspired me to start a home flow practice. I particularly enjoy the Yin sequences. But for me, the most important takeaway was realizing how attached I was (am) to my story. It has started me on a journey to really try to stay present and in the now. Thank you so much for a wonderful experience."
—Mary, USA
Yoga has transformed my life, and this program will help you do the same.
I have spent the last 5 years creating this one-of-a-kind program to help you access your inner power—and use it 24/7 in everything you do!
Here's what's inside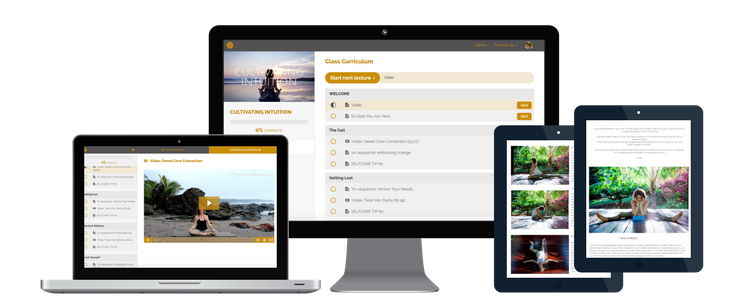 10 Pre-recorded Vinyasa Flow and Yin yoga practices (videos) specifically designed to cultivate intuition, find stillness and connect to your inner self, so you can walk through your day with clarity and ease.
5 Additional Yin sequences that are magazine style to compliment your yoga.
5 Audio meditations to rewire your brain for trust, sensitivity and courage, so that you stop self-sabotaging and begin living from authentic truth.
5 Group mentorship calls for guidance, feedback and connection, so you can get real-time course corrections and see yourself more clearly.
Daily assignments and worksheets for greater self-awareness and practice integrating yoga into your daily life, so that you can keep the benefits of this retreat forever.
Ongoing community support through your exclusive access to our private Facebook group for accountability, connection and inspiration, so that you receive the full benefit from this program.
Healthy nutrition guidance and recipes.
Class recordings of all classes that are recorded in video format and can be replayed anytime, so you can learn totally at your own pace and on your own terms. Our online community will stay active even after the 5 weeks finish, and many new friendships have developed during the previous 3 rounds of this retreat.

VIP PLAN (ONE-ON-ONE COACHING UPGRADE) Exclusive:

Two private one-on-one intuitive coaching sessions at the beginning and end of the program, plus personal support via Voxer from me during the 5 weeks. On top of that, you can join all my regular Zoom livestream classes during these 5 weeks. If you want a truly immersive experience, you can sign up for this extra support where we will work through each step of this program together, one-on-one

(only 5 spots available)

.
Learn how to
✦ Find clarity on your heart's deepest desires and the steps you need to take to realise them
✦ Build trust and find new confidence in yourself
✦ Stay centered and grounded and tap into your own inner wisdom—you have everything you need
✦ Create more nourishment and self-love

✦ Set healthy boundaries and speak your truth

✦ Feel a new sense of connection to your physical body and create new routines and sacred rituals for yourself
✦ Be comfortable with growth and letting go to feel liberated and joyful again

If you are seeking the trust and courage to take the next steps in your life...
If you long to move forward boldly and with clarity and the support of a great community...
Then this program is perfect for you!
What to expect
This course includes practices and tools to deepen your connection and trust in yourself and your inner voice. We will meet for 5 weeks online in a private Facebook group and via live videos on Zoom, so we can support and inspire each other and also hold each other accountable during this progress.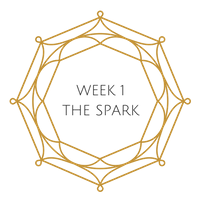 Before we can move forward, we have to listen. Learn how to hear the call and know when it's time to follow your heart.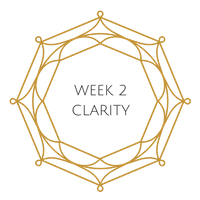 Faith is the foundation of your work this week. Learn how not to be afraid to get lost. The road is not a straight one, but I'll show you how to stay on track and manifest your dreams.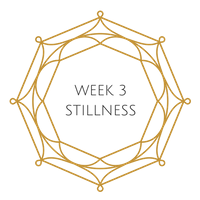 I'll share tools and practices with you on how to become more comfortable with stillness and turning inward to find your strength and intuition.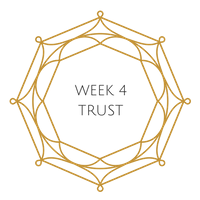 This week, I'll teach you techniques how to trust in yourself. Learn how to be more confident, honor your needs and ask for what you want.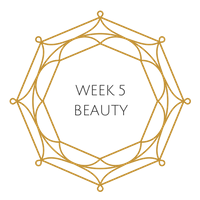 Don't be afraid to shine your light and celebrate your beauty. Letting go creates freedom and joy to BE YOU.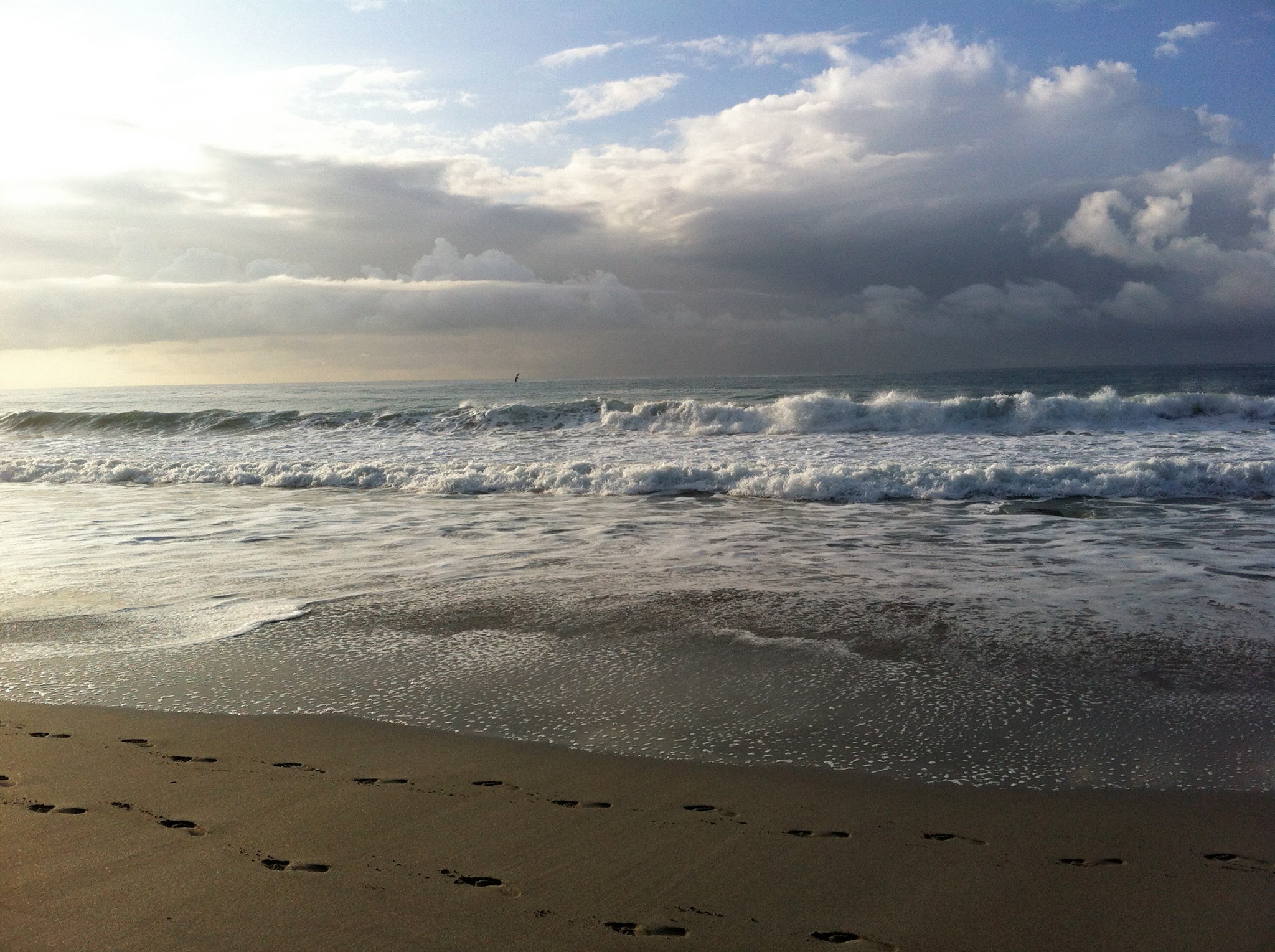 "I loved the program and the price was great!
When I first started the course, I was excited about the daily practices and then started the course with a sciatic nerve pain. I tried not to be frustrated. I did the daily meditations lying down! That was a great start/entry. The physical pains faded quite quickly and I didn't fall into my old negative patterns! For me, it was a total success.
I was really impressed with how you could energetically accompany the group and hold space for a group of people who are in so many different places in the world. Time and place were unimportant—you were there with us the whole way!
Now I feel stronger physically as well as emotionally. I found it so rewarding to be part of this group! I started to structure my days so that I clearly make time for myself. That means doing things right now! I realized that my intuition is quite reliable—if I listen to it. In these weeks, with the focus on my intuition, I connected to it very strongly. That means I stick to my daily practice, as it brings me closer to me.
I loved variety of the weekly offerings and the homework. The self-care tips were so helpful, and the recordings of the live calls made it possible for me to listen to them on my time—they were the start to a perfect week!
The videos are beautiful and, of course, it's wonderful to have a little Costa Rica in Zurich."
—Bettina, Switzerland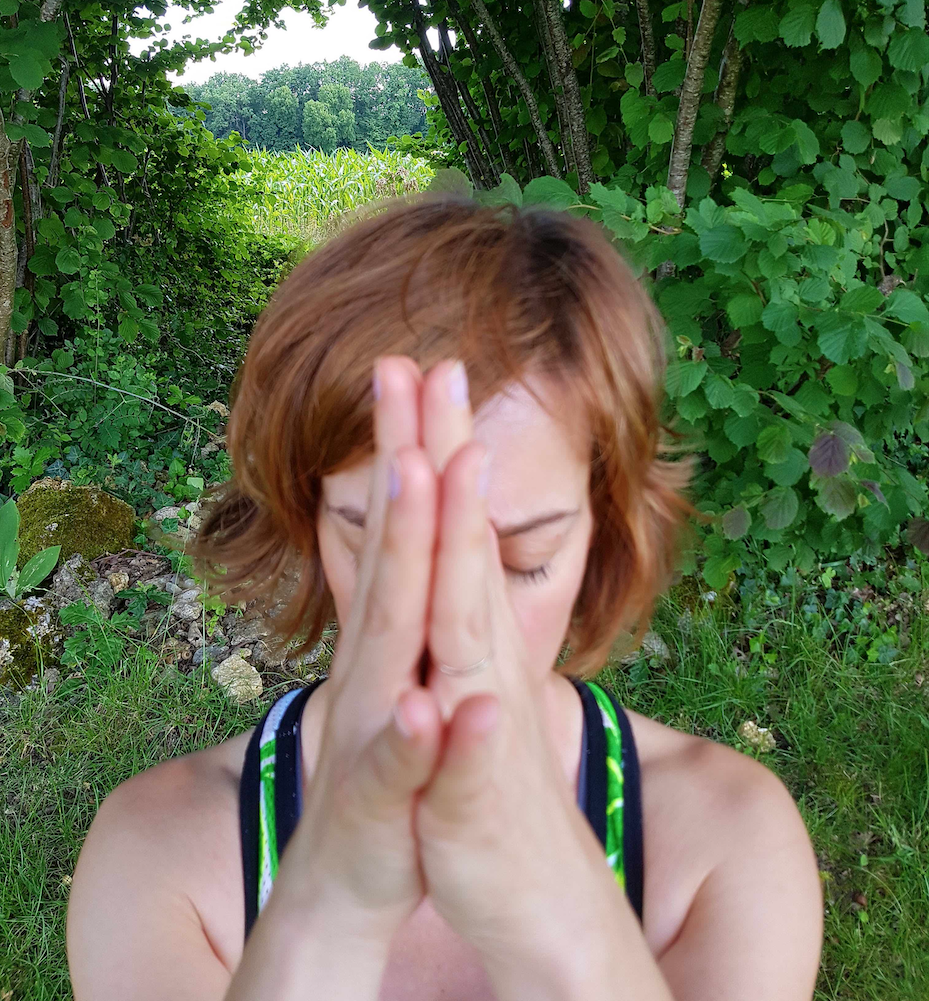 "I wanted to say thank you for the course. I'm not exaggerating if I say that it has changed my life. I was ready to take some changes at this moment in my life, but I needed someone to help me, to stand by me during the process, and you did it with so much presence, care and love. I enjoyed the very complete, rich, inspiring material that you gave us through the course, including healthy food tips, self-care, yoga practices, meditation and journaling tasks. It's over now but in fact not really, because I'm into Week 7 and I continue! I set myself new goals and new homework every week!
This week for instance, I keep meditating everyday. I'm planning to do a vinyasa again with your video, and as I had bought the books you recommended, some of them include journaling tasks as well. So this week, I'm examining my own relationship with money and my limiting thoughts. I now devote at least 1 hour every day for myself, for my own nourishment, and it makes a big big change. I know when a wave of sadness is coming, that I need to stop, to stop working and to spend time with myself. I can recognize now the signs of losing my balance, and I know where this sadness comes from. Meeting the girls in the group was fantastic, we all fit in. So joy and colors have come back, thanks to you. I'm so grateful. Please continue to shine bright!

—Emmanuelle, France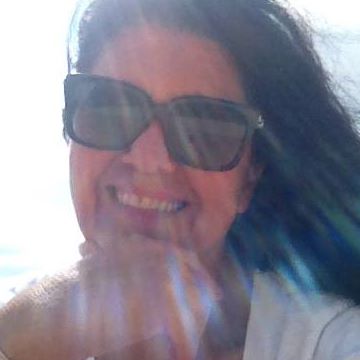 "Thank you, Dagmar, for so many beautiful moments during these 5 weeks. You helped me during the stressful working days to stay connected with myself, practicing meditation almost every day. A 30-minute walk has now became a ritual, either during lunch time or in the evening. After 5 weeks, I feel extremely grounded, which is the strongest change I noticed. I feel very stable, have no pain anymore in my lower back, and even feel a few centimeters taller with a very straight back. I also learned to take care of my femininity and to be more graceful. It was a beautiful program with a wonderful community, and I am very grateful for all your recommendations and feedback."
—Val W., Germany
I want you to feel 100% supported through this process and to have the courage to stick with the program to receive all potential benefits.

If you participate fully in the program all the way through and aren't happy at the end, please reach out to us and I will give you a full refund.
Hi, I'm Dagmar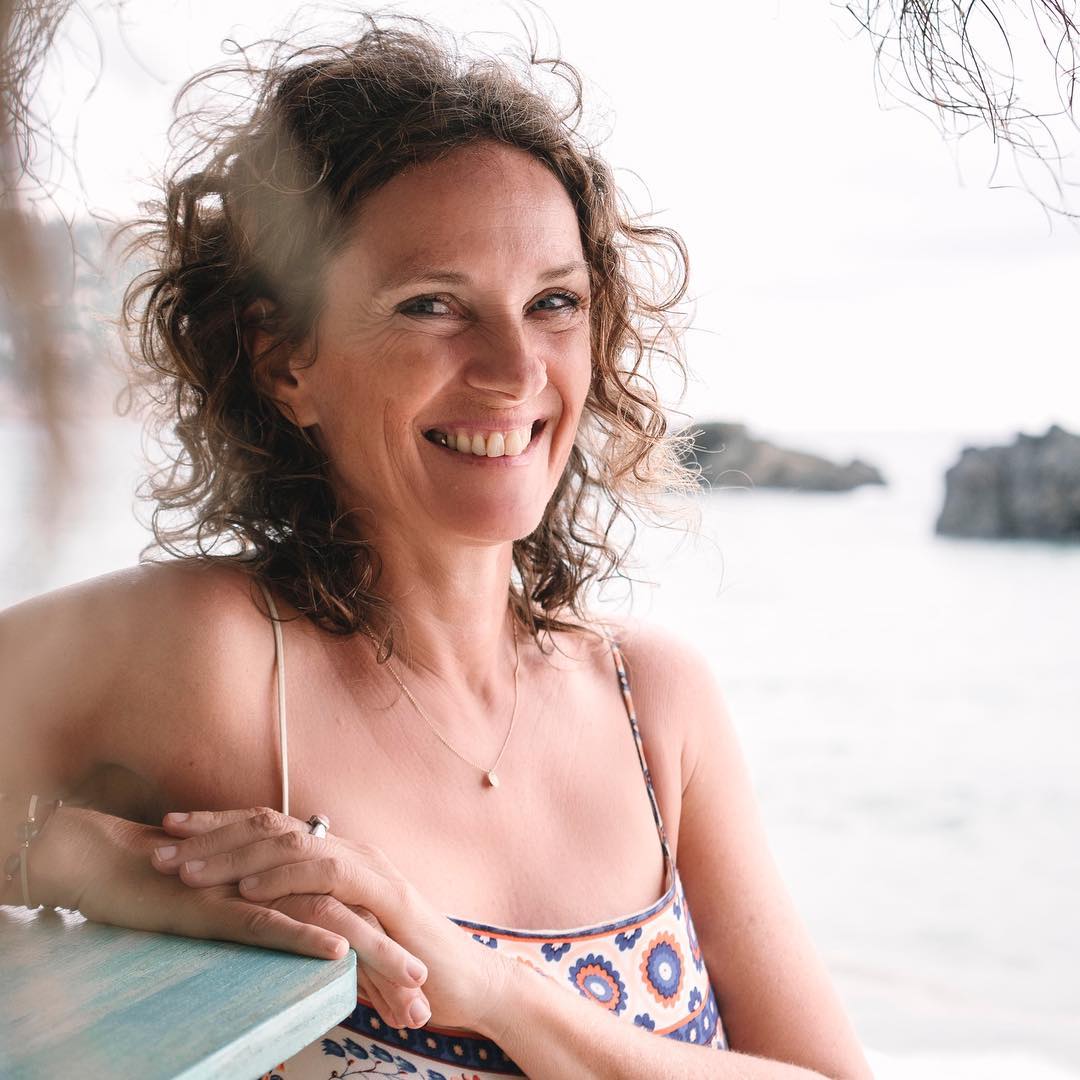 I have helped hundreds of people just like you live extraordinary lives with the power of Yoga and Intuition.

I've been a yoga teacher living in Costa Rica since 2001. For a long time in my life, I suffered from self-doubt.
I was consumed with the feeling of not being good enough to have happy relationships or live an inspiring life.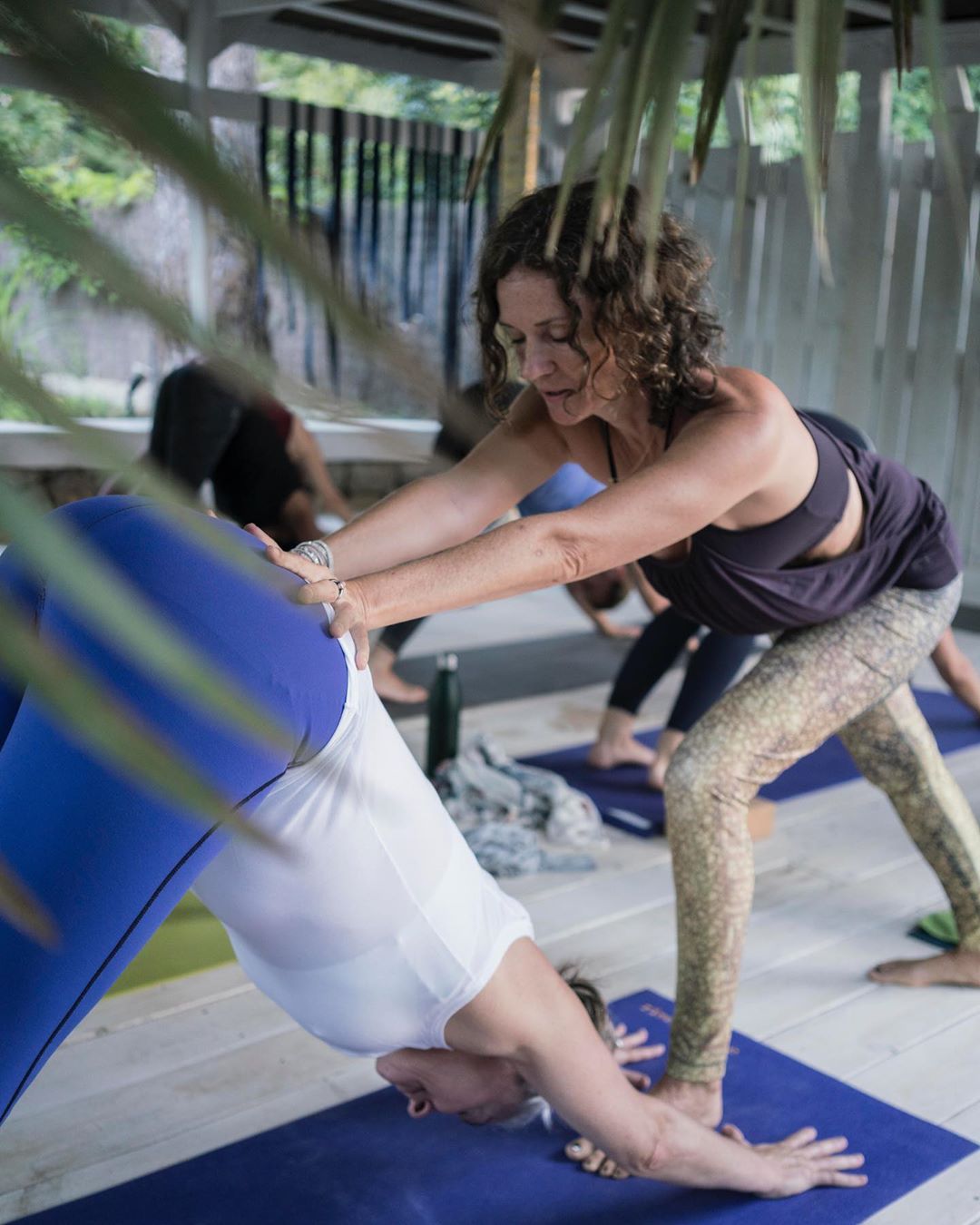 It was through the discovery of yoga that I learned about my own body in new ways, uncovered my negative self-talk, and, most of all, found a community that felt like my tribe—a group all searching for ways to live a happier life.

I followed my heart, moved beyond my fears and my repetitive thoughts, and created Montezuma Yoga, a yoga studio and community.
Here, I teach yoga to students from all over the world. After 20 years, I recently closed my studio and have gone through big challenges myself. I feel liberated now and love to show you how to be comfortable with growth and letting go.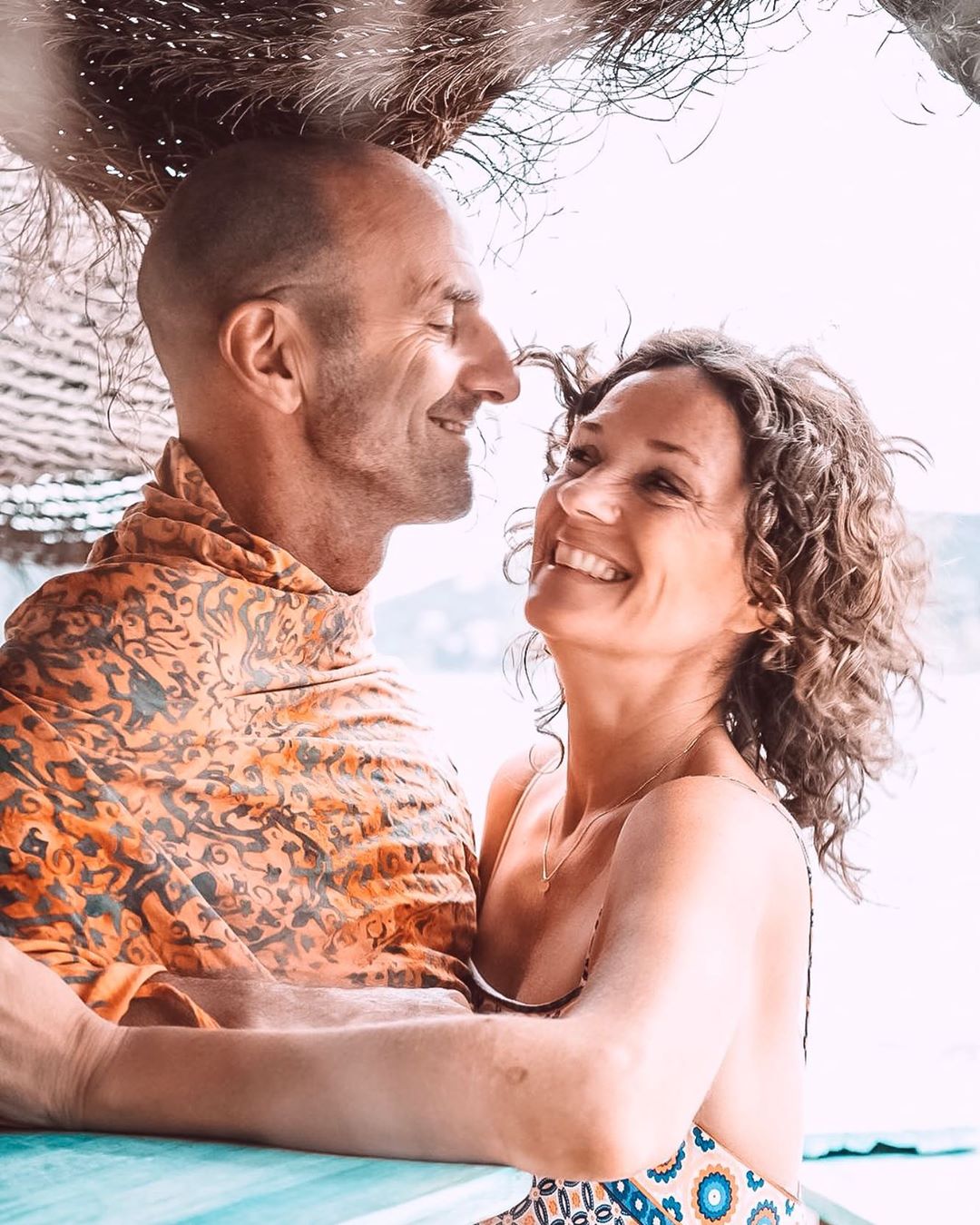 For the last 13+ years, I have created a magical life alongside my beloved Daniel.
We also travel to teach retreats together.

My experiences call me to continue to hold space for you to have similar transformative experiences.
I believe we all have something amazing and unique to give and share.
Are you ready to step forward, shift your story and live a life from your heart?
SPARK YOUR LIFE is perfect for you if you are done with fear holding you back from living your most authentic life.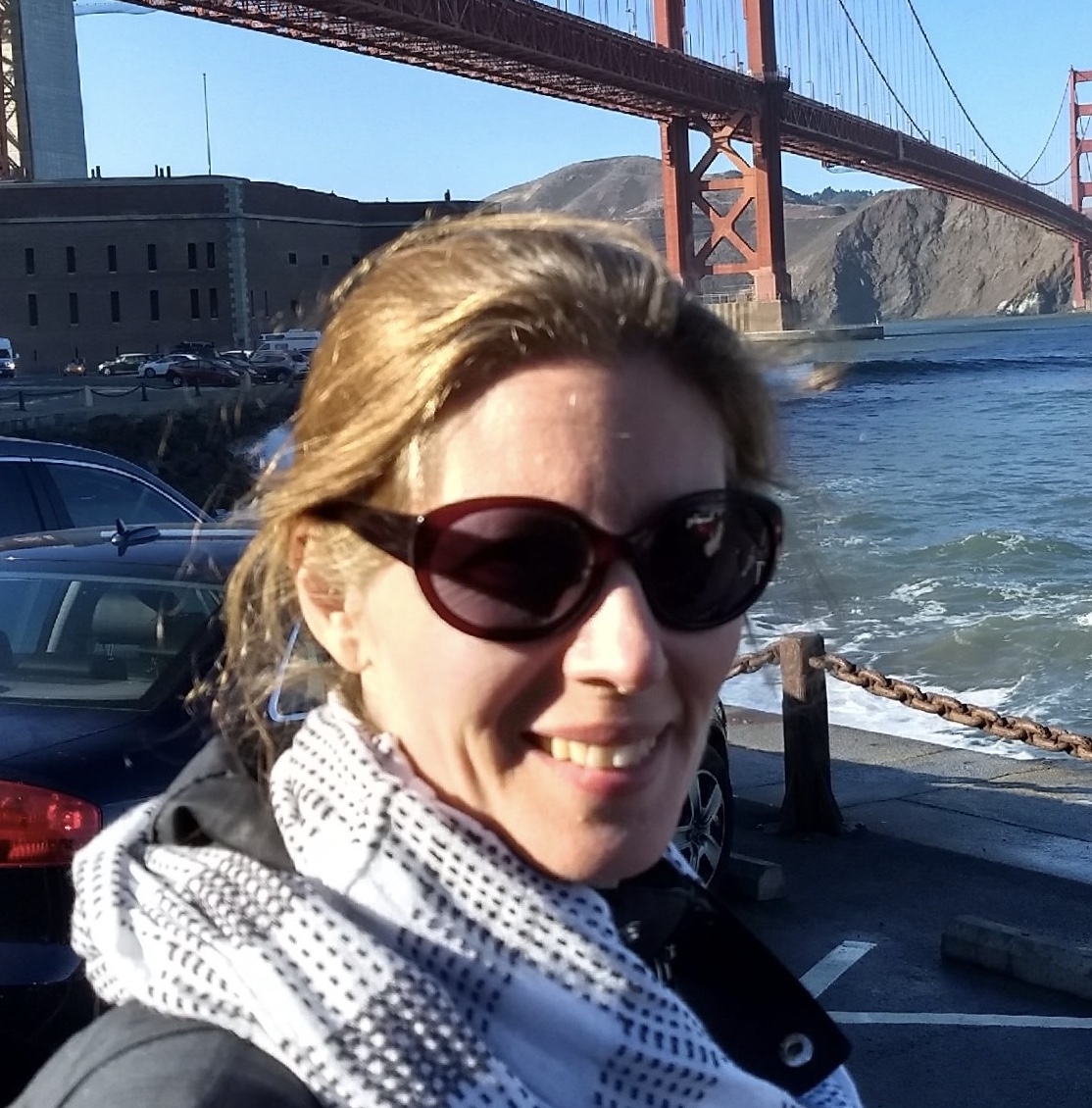 "I am so grateful for this lovely course and for Dagmar's beautiful presence.
I love how we learned to create time, organization, and make our yoga a priority. I feel so much better now that I have scheduled in daily meditation—thanks to the program—and that helps so much. It also really helped with figuring out what was important, and what I do and don't want to spend my time on!
It's hard to pick just one thing that I love about this course. I love Dagmar and her gentle leadership style! The vinyasa classes were amazing (Dagmar's teaching, the sequences, the beautiful nature scenes). I also love the community you created and meeting new people—including my sweet partner!
There is so much great content in this course. I will probably redo the whole thing (and soon!). Thank you for this sweet gift, Dagmar!"
—Angela B., USA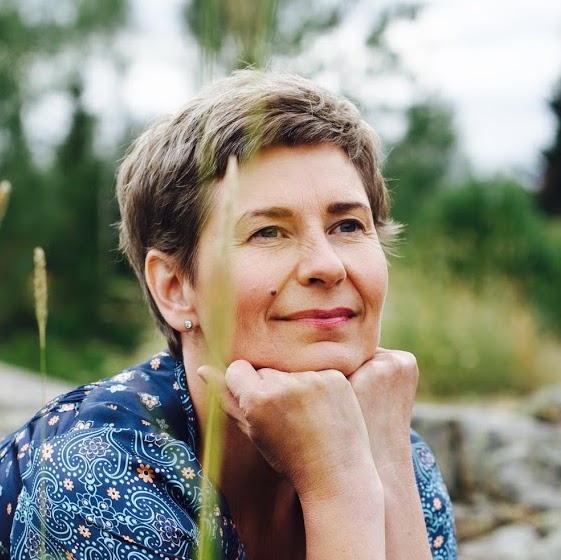 "Dagmar's warmth and presence helped me to get centered again. Her meditations and yoga practices gave me the routine and structure that I so much needed in my life. Even being an energy healer and a yoga teacher myself, in my darkest moments, I had totally lost all my interest in practicing yoga. Her support along with the other women in the group was so heartwarming and genuine. As the weeks passed, I felt I had found something valuable—a way back to being my authentic self, a way to connect again with my body and soul. I was able to finally feel the stress starting to melt away from my system. For the first time, I took full responsibility for my own healing and my entire life."
—Nina, Finland
If you're done with fear holding you back and ready to feel new vibrancy in your body and soul, you need to get inside SPARK YOUR LIFE today.
What's holding you back?
Do you feel that fear is holding you back? Would you rather stay in your comfortable space—even when it's uncomfortable—without changing anything?
It's time to break your habits and move forward! The shift needs to happen within yourself first, then everything else follows.
Frequently Asked Questions
How much does it cost? Are there payment plan options?
The cost of the program is $595 (USD) if you pay in full. Upon launch of the program, you'll have the chance to receive a discount coupon for 48 hours, so you can get the program for only $497. If you prefer a payment plan of 3 rates, you can pay $199 per month. Payment plans are shown at checkout.
When does the program start?
You will receive a welcome email with further info and access to our private Facebook group on January 18th. You will then receive new instructions by email for the week every Monday. The first video live session on Zoom will be held Monday, January 24th at 12pm Central Time, and then every Monday after at the same time. If you can't make the live call, you can listen to the recording after.
How long do I have access to the course?
How does lifetime access sound? After enrolling, you have unlimited access to this course for as long as you like—across any and all devices you own.
How much time will I need to spend every day for the materials?
It's up to you. You don't need to do each practice every day. Some days, it might be the vinyasa video. Another, the yin sequence, and then some time writing. One hour or so per day is a great start and anything over is a bonus—think how much better and how proud of yourself you'll be! I highly recommend to sit every day with the meditation audio for at least 5 minutes.
I start new things often and have a hard time following through or get lost easily, will this program address this?
I am very similar and that's why I created this as a group program. The other people in the course will hold you accountable in our private Facebook group and lift you up when you get lost or spiral down. You will also have a study buddy to support your transformation. I am proud to say that the previous 4 years, everybody completed the course successfully and nobody dropped out!
What if I am unhappy with the course?
I would never want you to be unhappy! If you are unsatisfied with your purchase, contact me in the first 30 days and I will give you a full refund.
The magic is in the practice and all you need to do is... show up for yourself!
If there are a million voices in your head, it's time to drop into your heart and start following your inner guidance.
Myself and our loving community will be here to support you. Together we can do this.
Ready to SPARK your life?